Rebel Square may be 'THE NEW KIDS ON THE BLOCK' (formally established in 2005) but each member of this dynamic, creative duo comes with years of experience in their respective fields. Together Samiuddien Harneker and Nurunisa Gaibie-Harneker have taken the home, décor and construction industry by storm, making waves and creating much talked-about projects!!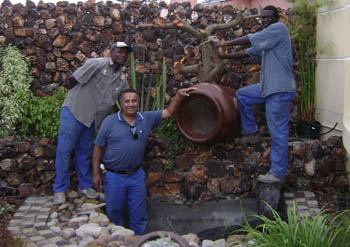 Samiuddien has been in the cabinet-making and shop-fitting trade for more than 30 years, having successfully managed his own business. He has a wealth of experience having serviced clients on the domestic front as well as corporate clients such as Woolworths, Absa Bank, Sanlam, Shelco Shelving. With the experience gained from sub-contracting for large construction companies, it was only natural to add construction to his portfolio!
Nurunisa is an artist, interior decorator, designer and landscaper in a league of her own! Some of her works can be seen adorning the Rondebosch East neighbourhood. Her non-conformist approach to design and décor ensures that each of her projects has that much sought after 'WOW" factor.
As a team of artists with the ability to think out of the box, we have been creating stunning homes with that REBEL SQUARE signature all over it!!!!!!